RPS Editor Lauren Dellara Wins Sports Emmy for NFL's "Run With It"
We chatted with Lauren about what it was like to work on this spot, why it resonated with her, and what it was like to win the award.
11 - 09 2023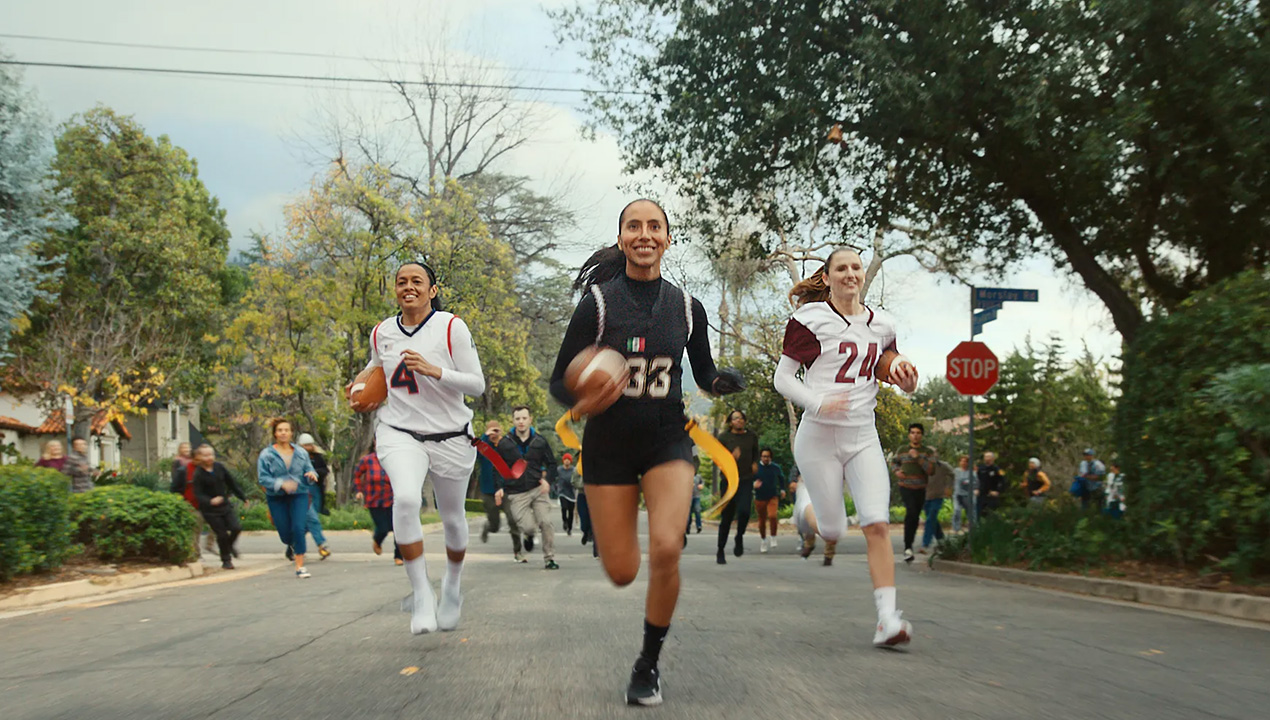 Congratulations to RPS Editor Lauren Dellara, who has won a Sports Emmy for her work on "Run With It" for the NFL, in collaboration with director Bryan Buckley, Hungry Man Productions, and 72andSunny! The spot ran during Super Bowl LVII, and follows icons like Diana Flores, the World Games' gold medal-winning quarterback of the Mexico Women's National Flag Football to spotlight not only the sport, but the critical role women are playing in its growth. We chatted with Lauren about what it was like to work on this spot, why it resonated with her, and what it was like to win the award. 
Can you tell us a little bit about the Run With It campaign, and what made the team on the project really great?
Lauren: This commercial was just awesome to work on. Brian Buckley was the director and he involved me really early on in pre-production. He and I sent boards back and forth, narrowing down what was pivotal to the story and which beats mattered, and how we could fit it into 90 seconds. I really felt like I was a part of it from the beginning, which is rare for editorial. It's also so fun working with 72andSunny because they normally have quite a few people that work on any given project. It's always a big team effort, with great collaboration.
What did you like about the spot itself?
Lauren: The idea itself was monumental because the NFL was using their biggest platform's air time to recognize women in the sport for the first time, and doing so in a subtle and exciting way. I also love that the commercial tricks the viewer by starting off as if it's part of the live broadcast. It's grounded in reality and then everything goes haywire, and it ultimately takes you until the very end to realize it's a commercial for the NFL. Obviously as a woman who loves football and editing sports-related commercials, it was very cool to be a part of it. It was a combination of all my favorite things.
What about the sports genre of content is appealing to you?
Lauren: I just love sports! I think that they're so exciting and bring people together in such a nice way. Sports content specifically is always very action-packed and fun to watch, with lots of quick sequences and pacing. I think that there's something in this kind of content that appeals to everybody. The brands that do sports commercials also tend to be brands I enjoy in my regular life.
What was it like to win an Emmy?
Lauren: The trophy is much bigger than I thought! It's not something that I ever thought I would win. I got to attend the Emmys with Elastic when they did the graphics for 13th because I cut the main titles, and it was great to be a part of that, but I never thought my name would actually be on the award. Working in commercials, you don't expect that. It was very exciting and overall just a very cool opportunity I'm glad to have been a part of.