ESPN+ presents "Tom Brady: Man in the Arena"
The Elastic team collaborated with Religion of Sports to give the series a distinct visual identity.
01 - 12 2022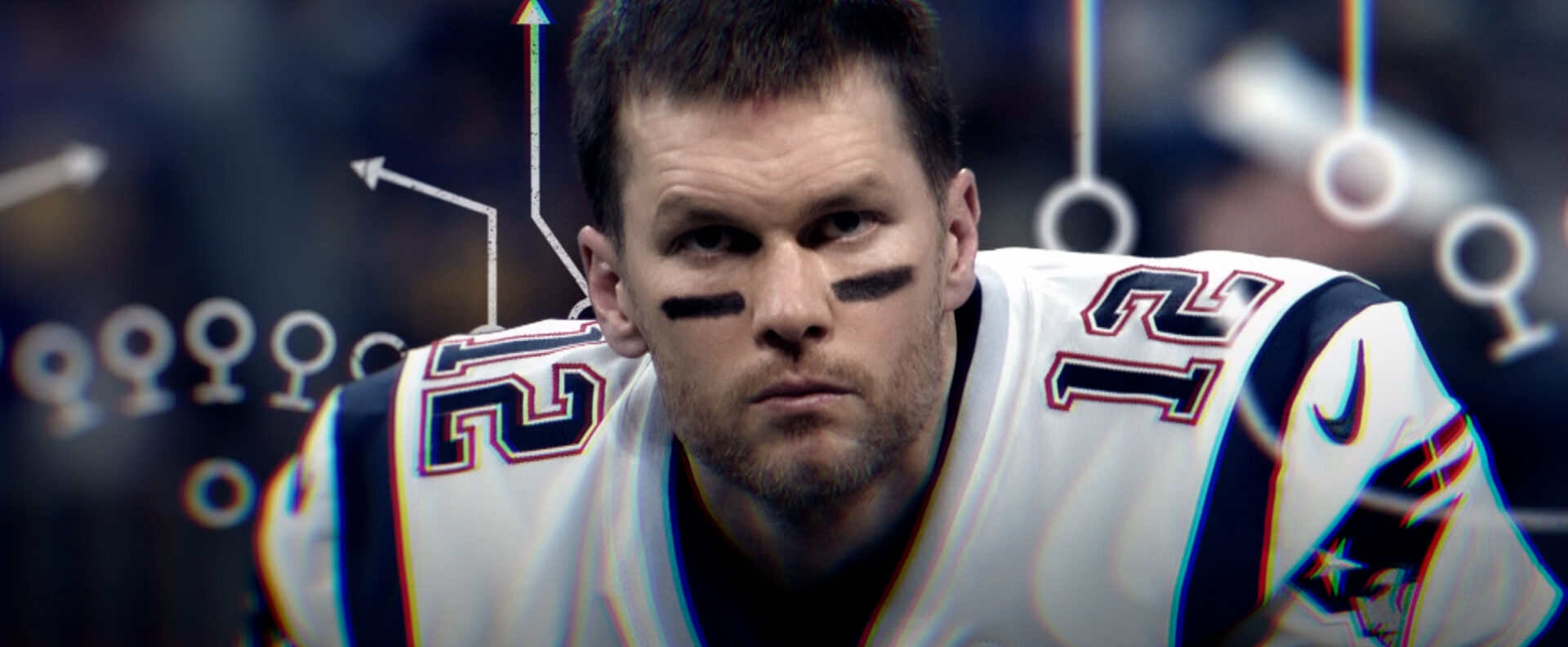 Love him or hate him, you know the name and what it's synonymous with: the greatest of all time. After 21 seasons in the NFL and ten Super Bowl appearances, Tom Brady brings the cameras in for a closer look at the man beneath the helmet, panning out to Man in the Arena.
Over the course of nine episodes, the highly-anticipated docu-series humanizes an athlete who appears to many as larger than life. An underdog that got his chance at becoming the greatest of all time, who admits he couldn't point New England out on a map before getting drafted to the New England Patriots in 2000 as the 199th overall pick. It's the unsuspecting story both die-hard fans and casual observers can root for together. A story told by Tom Brady himself. "I think they're going to see a lot of humanity in it," Brady has said.
A collaborative play from the start, Religion of Sports (co-founded by Tom Brady, Michael Strahan, and director Gotham Chopra), approached Elastic with their own ideas for title sequences, and the more Elastic huddled in the ideation phase, the team realized they were being called upon for more than title sequences and graphics. They were tasked with the opportunity to visually shape the narrative of the series. An opportunity established by the trust both parties had for each other's skills and talents, sharing the common goal of telling this epic story. "The original brief based around how many Super Bowls Tom had been to, whether he had won or lost them, evolved into wanting to get an insight into him that is outside the traditional straight sports documentary. "They wanted it to be about his life, to look at it from a cinematic perspective and tell the human and emotional story about Tom Brady," said Duncan Elms, Creative Director, Elastic
"When we're not working on the graphics, we're actually treating quite a bit of the footage with a specific stylization. We got to weave the whole story together, keeping the graphics flowing and really giving it a tongue throughout. I'm going through it feeling out what Tom would want to see as well," said Kennon Fleisher, the series Art Director.
The Elastic team wasted no time graphically forming the language of the entire series, stepping up to the challenge from their remote home offices spread across Australia, Colorado, and Los Angeles. Each episode is made up of 80% graphics, with anywhere between 350-400 visual effects. Thanks to the exceptional organization of Megan Rodriguez, Elastic's Associate Producer, team members stationed all over the world were able to band together to shape the very stories mirroring this level of sensibility and teamwork.
"All of the episodes are really great in that they not only highlight Tom as a player but more as a team player. The narrative is a really interesting approach. As someone who doesn't really know anything about football, I was really engrossed with the story," editor Rachel Fowler shared.
https://vimeo.com/665317010
There's a saying a team is only as good as its leader, but for a project of this magnitude, every leader showed up in the form of a helping hand for their fellow teammates in order to bring home the win. A perspective on teamwork and leadership, taken right out of Brady's playbook. Designer/Animator Steven Biggert reflected on the collaboration, saying "What made this project so interesting for me was the close collaboration between the designers/animators and the editors. There is such a wide variety of graphics and bespoke moments, and so many beautiful montages - but they all seamlessly fit together to tell the overarching story. Each episode has a motif, sometimes subtle and sometimes more overt. Making sure that concept successfully carried through every graphic required a lot of attention to detail and stellar communication within our team. We needed everyone's input, from the football novice to the football pro, to visualize each story."
"It's from a big picture point of view, which is very inspiring," Kennon says, "You don't have to be a Tom Brady fan to recognize the greatness"
The series can be streamed now on ESPN+.