Elastic Creates a Mesmerizing Title Sequence for HBO's The Last Of Us
Building on the original game's title, their interpretation adds new layers of texture, color, and hidden imagery to the sequence.
01 - 19 2023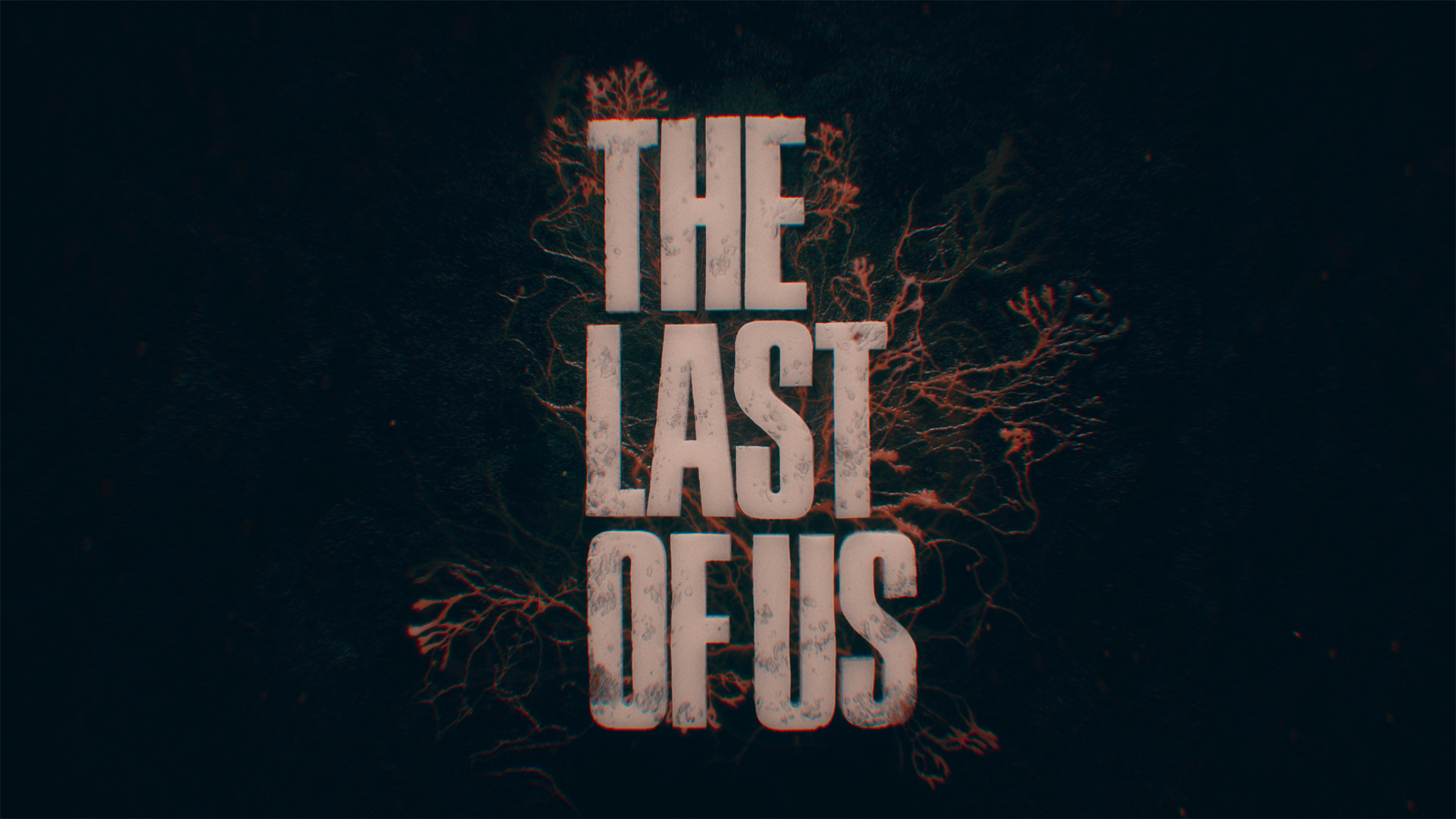 When it comes to video game adaptations, HBO's The Last Of Us is already an outlier. Based on the popular 2013 action-adventure video game, the show is garnering excitement and praise faster than a fungus can spread — which if you've played the game, you know is all too fast. We spoke with Elastic Head of Production Paul Makowski, Creative Director Nadia Tzuo, and Executive Creative Director Andy Hall about their experience working with show creators Craig Mazin and Neil Druckmann to design an elevated main title that pays homage to the game while differentiating itself as something new and noteworthy.
Q: Tell us about the title sequence you created for the adaptation. How is it similar to and different from the original game's title? 
Nadia: The original game title for The Last Of Us has an iconic look with macro shots of fungus growing in a frenetic and aggressive way. With our version, we wanted to add more layers to it. After doing a lot of research on fungus, we discovered that there's a lot of similarities between the behavior of the fungus as a species and humans as a species. As humans, we build cities and networks for communication, which is actually very similar to what we find fungi doing in nature. They link with each other, communicate, reproduce and even experience competition and conflict. We thought it was really interesting that all of that is so similar to human behavior, and that makes it a perfect visual to represent the show.
Paul: There's not too many video games that have title sequences, and the opening of The Last of Us in particular is so cinematic. We were always cognizant of that, and while we tried to do something a little bit different, we always wanted to honor the original. Craig and Neil wanted to bring in the richness of that fungal world, and they pushed us to add more color to the overall world that we created. There are so many types of fungus out there, many of which are colorful and surprisingly pretty — some are even bioluminescent. Both the game title and our title share the fundamental concept of realism. We wanted to stay as true as we could to how an actual fungus may grow, and to take the viewer on a journey through that fungal world.
Q: How did you map out what the title sequence would look like?
Andy: After being approached by Craig, Neil, and Executive Producer Carolyn Strauss early in the production process, we did an initial idea/reference pass, just encompassing a variety of different ways to potentially tackle the brief. Given the nature of the show and how much people already had invested due to the success of the games, everyone wanted something uniquely beautiful but also connected to the foundations of the story. Nadia had conceived of a look for the sequence, where the fungi became a representation for the landscape and humanity. From there it took a lot of back and forth with Craig, Neil and the team to explore how much story we were trying to tell, and the most effective way the fungi could represent those events while still feeling believable. 
Nadia: We started off with some key moments that we wanted to make sure we included, like the fungus growing into a cityscape. From there, it was just a matter of determining the order we show them and figuring out how they serve the story arc of the title sequence. So we started with a storyboard and roadmapped everything out that way. We wanted a single camera fly through for this sequence, which means each moment has to connect seamlessly to the next. So with that in mind, we started to build out each section and make sure that all the shots connected visually and supported the story.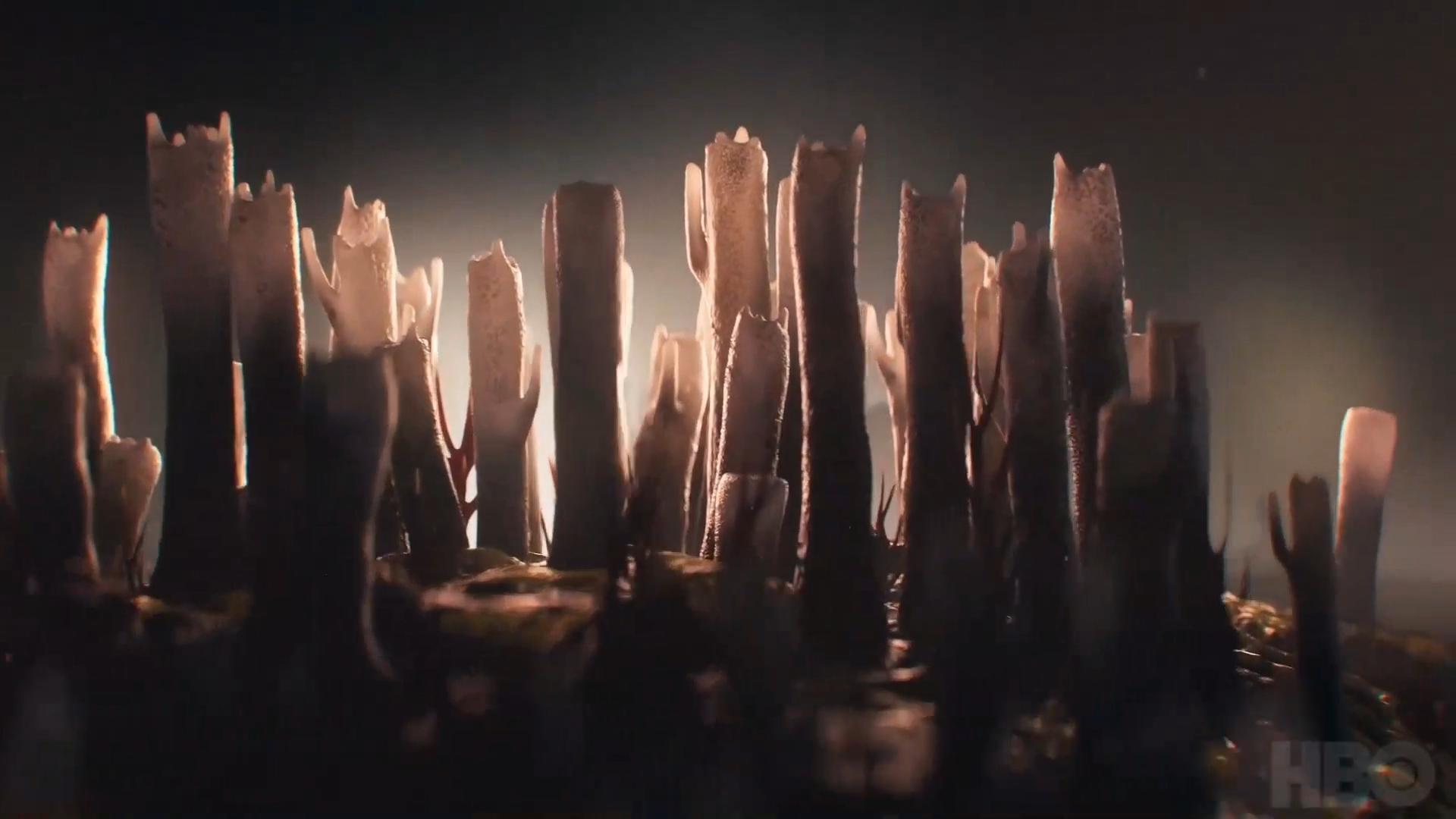 Q: Were there any notable challenges you faced while working on the title?
Andy: The biggest challenge was to make the sequence feel convincing. Nature makes movement and growth look unnervingly simple, yet it's incredibly complex. At its core, we are witnessing the growth of fungi and those elements for fleeting moments suggest humanity's precarious fragility. How we overcame it was extensive study of fungi and seeing how they move and at times infest and overrun, which are strikingly brutal. We just stayed true to those details so we never lost sight of the unforgiving beauty of nature.
Nadia: It was definitely a challenge to capture the look of growing fungus — it has a breezy and effortless quality of motion, but also a logic to how it splits apart and creates patterns. We worked hard to get that look right. 
Paul: The shapes that the fungus creates aren't forced — those are shapes they naturally form. However, when we look at them, we connect them to objects and scenarios that are familiar to us. One of the challenges we faced was trying to determine which are the key moments from the show we should hint at within the fungus. For instance, there's a shot where if you look just right, the fungus forms the shape of the map of the United States, which ties into the narrative of the story and speaks to the characters' journey throughout the series. We wanted to be thoughtful about creating those moments, where the viewer doesn't know what they're looking at right away but gets those exciting flashes of recognition.
Q: The show is already getting plenty of praise from viewers and critics alike. Were you excited to be able to work on the title for this adaptation?
Nadia: Yes definitely. Everybody on the team has handled this project with extra care, because there's so much love for the game, the story, and the characters. The story of the original game is special in that it's not the typical apocalypse game. It's real and emotional, and focuses on the connections between the characters. That provided us with a lot of inspiration while we worked on this.
Paul: I'm personally a huge fan of the game, so for me it was a huge honor to be able to work on this. I love the story, and I just immediately connected with it. It's wonderful storytelling. It makes sense that they would adapt it into an HBO show — the material is there and totally lends itself to a series. As designers we respected the opportunity to work on a project based on such a wildly popular game. It was a pleasure from all sides to be involved, from working internally with the Elastic team, including Creative Director Andy Wall, to working with Craig and Neil on the client end. Craig and Neil were both hands-on and involved in the project, and they made themselves available to us at all points throughout this journey, which made this a great experience. They knew what they wanted and they had big expectations for it, and we're really happy they trusted us to execute it.
Watch the title for The Last Of Us below.