Elastic Supports Sam Jay's New HBO Show with an All-Queer Design Team
Led by Creative Director Hazel Baird, Elastic created the main title, bumpers, and transitions for the uniquely formatted, Pause with Sam Jay.
06 - 02 2021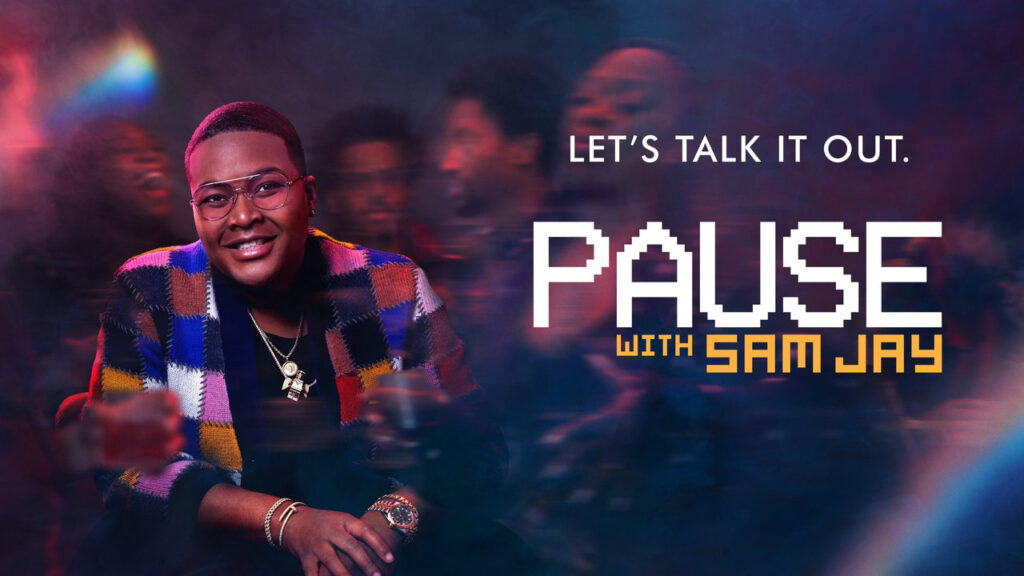 Known for her career as a stand-up comedian and a former Saturday Night Live writer, Sam Jay's comedy provokes the everlasting question, is it personal or political?
For Jay, who identifies as Black, queer, and female, the personal and the political are indistinguishable. Her new HBO series investigates this within a larger societal context. And while the half-hour weekly show confronts and challenges social and political issues that are both broadly current and historically rooted, Pause with Sam Jay feels like nothing else on television, partly because of the format, which is essentially a house party cut with investigative interviews and on the street segments.
"When this job was presented to me, it sounded really unique," said Creative Director Hazel Baird. "I really wanted the opportunity to work on this, because Sam is queer, Black, and female, I wanted to use my skills to support her. Not a lot of work like this comes along; most projects are run by white heterosexual males. There is no way I can avoid that, but if I can help represent the LGBTQ+ community, that makes me excited."
Prior to establishing the visual components, the design team was sent raw footage and given a single design directive: VHS. At first Hazel thought younger audiences would not connect with the analog aesthetic, but after watching the improvisational and casual nature of the show - Jay hanging out at a Brooklyn apartment with her friends and girlfriend - Hazel got the vibe.
It took a few rounds of experimenting with different plug-ins and tools before the team decided advanced technology was making the VHS aesthetic look cheesy and inauthentic. As a solution, Chad Danieley, Animator at Elastic, scanned old VHS tapes of his parents' wedding and recorded the static and fuzz to capture the authentic texture. It was an ingenious decision, the type of out-there, forward thinking that Elastic animators are booked for.
"We are really proud of the creative we added to Sam's show," added Mitchell Fraser, who was part of the design team at Elastic. "It was my first time working with an all-queer team and it was all around a great experience."
Check out the title card and official teaser below, and catch new episodes of Pause with Sam Jay Friday nights at 9 pm on HBO.
https://vimeo.com/557828817/2547c15dff
https://youtu.be/qVj--VYe52c